GeoJSON Cheat Sheet
---
What is GeoJSON?
GeoJSON is an open geospatial data interchange format based on JavaScript Object Notation (JSON).
GeoJSON uses World Geodetic System 1984 (WGS84), with latitudes and longitudes in positive/negitve decimal degrees. WGS84 is the standard for GPS.
GeoJSON defines JSON objects and a syntax to represent data about geographic features, their properties, and their spatial extents.
The GeoJSON objects include:
points (addresses and locations),
line strings (streets, highways and boundaries),
polygons (countries, provinces, tracts of land), and
multi-part collections of these types.
What is JSON?
JavaScript Object Notation (JSON) is a lightweight, text-based, language-independent data interchange format.
It was derived from the ECMAScript Programming Language Standard.
JSON defines a small set of formatting rules for the portable representation of structured data.
---
GeoJSON Types
Point
LineString
Polygon
MultiPoint
MultiLineString
MultiPolygon
Geometrycollection
Feature
FeatureCollection
ESRI Shapefile (*.shp) Types

#define SHPT_NULL           0
#define SHPT_POINT          1
#define SHPT_POLYLINE       3
#define SHPT_POLYGON        5
#define SHPT_MULTIPOINT     8
#define SHPT_POINTZ        11
#define SHPT_POLYLINEZ     13
#define SHPT_POLYGONZ      15
#define SHPT_MULTIPOINTZ   18
#define SHPT_POINTM        21
#define SHPT_POLYLINEM     23
#define SHPT_POLYGONM      25
#define SHPT_MULTIPOINTM   28
#define SHPT_MULTIPATCH    31

---
Escaping Special Characters in JSON / GeoJSON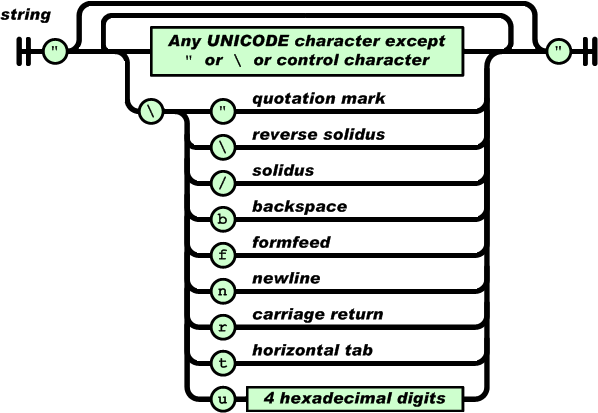 | Special character | Escaped output |
| --- | --- |
| Quotation mark (") | \" |
| Backslash (\) | \\ |
| Slash (/) | \/ |
| Backspace | \b |
| Form feed | \f |
| New line | \n |
| Carriage return | \r |
| Horizontal tab | \t |
| HEX (4 digits) | \uXXXX |
---
Example of a Dominion Land Survey (DLS) Section in GeoJSON

{
   "success" : true,
   "type": "FeatureCollection",
   "features":
    [
       {
         "type": "Feature",
         "properties":
         {
            "TITLE":       "10-51-23-W4",
            "LATITUDE" :     53.38844354,
            "LONGITUDE":   -113.30751230,
            "NORTH":         53.39568232,
            "SOUTH":         53.38120475,
            "EAST" :       -113.29534775,
            "WEST" :       -113.31967684,
            "ZOOM": 14,
            "FILE_NAME": "423051",
            "TRM": "051234",
            "RGE": 23,
            "TWP": 51,
            "SEC": 10,
            "RA": "",
            "DESCRIPTOR": "SEC-10 TWP-051 RGE-23 MER-4",
            "PID": "423051100"

         },
         "geometry":
         {
            "type": "MultiPolygon",
            "coordinates":
            [
               [
                  [
                    [-113.29534887,53.38481764],
                    [-113.29534775,53.38120475],
                    [-113.30142060,53.38121331],
                    [-113.30749346,53.38122157],
                    [-113.31356631,53.38122954],
                    [-113.31963915,53.38123720],
                    [-113.31964855,53.38483459],
                    [-113.31965792,53.38843196],
                    [-113.31966739,53.39205714],
                    [-113.31967684,53.39568232],
                    [-113.31359568,53.39567596],
                    [-113.30751452,53.39566928],
                    [-113.30143338,53.39566229],
                    [-113.29535225,53.39565498],
                    [-113.29535112,53.39204276],
                    [-113.29534998,53.38843053],
                    [-113.29534887,53.38481764]
                  ]
               ]
            ]
         }
       }
    ]
}

---
References